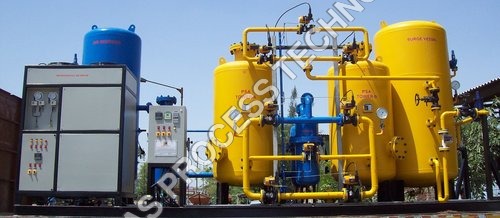 Product Description
Being an client centric organization, we are engaged in manufacturing a wide range of PSA Nitrogen Generator. These generators are used in pharmaceuticals, electrical, metal processing and food and beverage industries. Our Nitrogen Gas Generator operates through Pressure Swing Adsorption principle which allows the nitrogen molecules to get isolated with other molecules present in compressed air (water, oxygen, CO2, etc). CMS, the adsorbent in the generator absorbs all those molecules and only allows to passes nitrogen through to the outlet. CMS is also connected with another vessel which works together for ensuring a continuous flow of nitrogen gas.

Compressed air passes through a Twin Tower PSA module connected with automatic changeover valves.

Bottom of PSA towers is having Activated Alumina used for adsorbing moisture from compressed air which latter comes in contact with bed of carbon molecular sieves (CMS) which has special grade of absorbent and absorbs oxygen molecules. One of these two towers in involved in the production of nitrogen and other tower in regeneration which are inter-connected with automatic changeover valves.

Downstream equipment are useful in ensuring higher purity of oxygen during nitrogen production cycle which can be brought down using DEOXO Unit upto 1-3 PPM.

Palladium De-Oxo Unit:

In Nitrogen From PSA Unit, residual oxygen is mixed with Hydrogen and passed through Palladium Catalyst. Here, Hydrogen reacts with Oxygen to form water. This complete process is exothermic and outlet gas gets cooled using After-Cooler. Afterwards, moisture vapor gets condensed, separates and drains out in moisture separator.

Mositure present in this nitrogen is removed in Gas Dryer and the outlet Nitrogen is at (-) 60 Deg C Dew Point (Atm).

Copper De-Oxo Unit

Copper De-Oxo units are used in place of hydrogen is not accepted. In this system, Oxygen present in Nitrogen is removed using Copper Catalyst as per following equation.

2Cu + O2 = 2CuO

Around 1800C this reaction takes place in an embedded heater. Before this, raw-nitrogen is passed through the heater which comes in contact with the copper catalyst. As a result, the out-going nitrogen is totally free from oxygen. CuO is converted back to copper using Hydrogen Nitrogen mixture in the tower under regeneration, hence copper catalyst gets regenerated as per the following reaction

CuO + H2 = Cu + H2O

Nitrogen Hydrogen mixture is used for reaction and two of the towers remains for a period of 8 hours in Oxygen removal cycle. Latter gets changed over automatically which helps sequence timer installed in the control panel. At 2000C pure nitrogen gas regenerates from Copper Catalyst De-oxo Reactor and the temperature is controlled with the help of tube type heat exchanger and after-cooler.